Influencers and Pizza
A case study with Slice's Madison Gardner
By Megan Etzel, WeFind
September 17, 2018
This interview has been edited for brevity.

WeFind: How does Instagram fit into the Slice social strategy?
Madison: I mainly focus on Instagram. Facebook is mostly pay-to-play, and I have a different strategy for paid. But with organic stuff, I mostly focus on Instagram because it is still so... well, you don't need money in order to be successful, you don't need to place ads in order to be successful. Also, pictures of pizza elicit such a visceral reaction, so something like Instagram that's all about pictures lends itself well to the pizza business.
WeFind: Specifically talking about the WeFind plug-in, how has that helped you with Instagram and managing what you're doing on social?
Madison: It really helps me when I'm at work, being able to look at my own engagement rates, because I can quickly see what worked, and didn't work. Sometimes I do post things that I know aren't gonna--I know our audience pretty well---that aren't gonna get a lot of likes, but it's important to highlight that kind of pizza or that pizzeria. But it's nice that I can quickly see a snapshot.
Also, when I'm working with influencers… for example, we're having a pizza party, so I'm inviting some Instagram influencers. I can go and look at their profile, and can see if they're getting good engagement, and then with that, be able to quickly know, "Are they buying followers, or are their followers real?" If you buy followers, you're gonna have a really low engagement rate, so, WeFind helps with just a quick snapshot of people.
WeFind: What other tools are you using today (if anything) on social media management?
Madison: I use Falcon.io for posting and responding, but now I pretty much do most things natively. I use Instagram's insights, especially on stories, and then their specific insights on things like how many people found my post through hashtags, how many found my post from the explore page, things like that.
WeFind: What was the hardest thing to figure out when it came to learning about growing Instagram or working with influencers?
Madison: For influencer marketing, the hardest thing for me to figure out, is if it's a good offer, what's going to excite people, and what's going to create an authentic connection. Some people are very excited to get money to order pizza and have a code to share, while some people want $500 for a post. That was really surprising to me, understanding people's expectations. I don't really believe in paying for posts, because if it's not authentic, it's not the right fit for us. That said, I do want to compensate influencers fairly for their time, so it's been challenging finding a good balance.
WeFind: Any advice you would give to anyone just starting out in this?
Madison: Talk to as many people as you can. Just reach out, as people are generally really friendly and wanna talk about it. Talk to both influencers and people who run influencer programs. That has been the most helpful.
How does a site that specializes in pizzerias work with social media (and WeFind)? We talked to Madison Gardner of Slice to find out. Madison told us that Slice's main goals involve supporting local pizzerias, through their site, app, and now social posts. Growing their social media content and following has been on their goal list as well. (Warning: you will be hungry after looking at their Instagram feed.)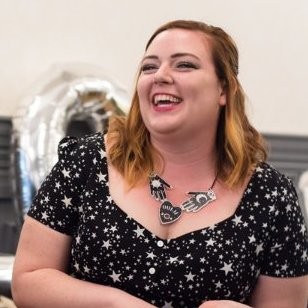 Madison Gardner
Brand Communications Manager at Slice
Want to see for yourself?
Download the WeFind Plugin in the Chrome Web Store
Have feedback on WeFind? Want some ideas on your influencer strategy? Want to partner with us? We're real people behind this tool!
Influencer research made easy.